The assistant manager of a branch of a major US burger chain has been arrested after she allegedly served customers French fries that had been in the bin, police said.
The incident happened at a Burger King in Union, South Carolina, about 100km south west of the city of Charlotte, reported the New York Post. Hungry Jack's is the Australian franchisee of Burger King.
Jaime Christine Major, 39, was charged on Monday with tampering with food — regarded as serious crime — for allegedly taking chips from the rubbish and adding them to the container where freshly cooked fries are placed and then dumping just-cooked fries on top.
The Union Police Department responded to a reported disturbance at the fast food joint on July 9, TV station Fox Carolina reported.
At the scene they found two women screaming at restaurant staff, threatening them and using profanity.
When the women refused to calm down at officers' request, they were both arrested and charged with disorderly conduct, police told the outlet.
Two days later, Burger King headquarters called police and told them that Ms Major had been serving fries from the trash can.
A warrant was issued for Ms Major's arrest after an investigation.
If convicted, she could face up to 20 years in prison, according to the State.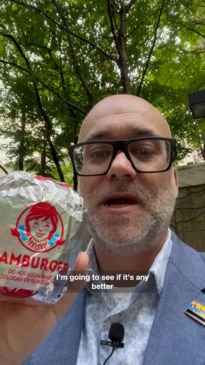 A judge set her bond at $US20,000 ($A29,500).
She remained in custody at the Union County Detention Center as of Tuesday, the State reported.
This story appeared in the New York Post and is reproduced with permission.