Cadbury Australia has launched a new chocolate bar that is sending the internet into a frenzy.
TikTok user @angeeats took to the social media platform to share that he had found Twirl Honeycomb Sundae flavour at a Woolworths store.
"You've got the honeycomb on the inside, and it smells like a Crunchie bar," Ange said, before biting into the chocolate.
Cadbury had "hit the nail on the head with this one", he said.
Ange added that the bar essentially tasted like a softer version of the Crunchie, which is also made by Cadbury.
"Guys you don't want to miss out on this," Ange said, adding he didn't know if the new Twirl was only on offer for a limited time or not.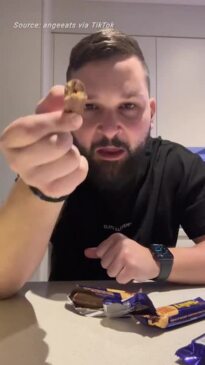 He revealed he had picked up the twin pack at Woolworths where they were currently on sale for $1.
News.com.au understands the chocolate is also available at Coles for the same price point.
Ange isn't the only one who has praised the chocolate bar, and it's causing many social media users to try and get their hands on it.
"Whoa. Sounds like a dream bar. Thanks for the review running to Woollies," one person commented.
Another social media user said: "We need this in the UK."
"The best I tell ya," another added.
It comes just months after Cadbury announced the arrival of "Australia's newest sporting icon", the Caramilk Wallaby.
Representing our national love and involvement in rugby union, the new "character" is made from Cadbury's iconic Caramilk caramelised white chocolate and is available exclusively Down Under.
Aussies can "hop" to their local supermarket and find the Caramilk Wallaby on shelves from today nationwide.
The treat is being sold in a share pack, featuring 12 individually-wrapped 12g pieces.
News.com.au has reached out to Cadbury for comment.