People kicked off about the new $15 paper bag from Coles – but does it warrant the anger?
A customer took to Twitter, which is currently under a rebrand to X, to take aim at the supermarket.
"$15 for a paper bag??? That's a hard no from me," the social media user said.
"@Coles you have no shame."
Coles announced in May that it will stop selling soft-plastic shopping bags in stores across Australia as part of its commitment to sustainability.
Now, news.com.au has put the new washable bags to the test against the 25 cent paper bags, with Coles claiming the new bags can hold up to 20kg.
Road test
I decided to grab a few things I needed – dishwasher pods, laundry detergent, shampoo and conditioner, mouth wash, potatoes, carrots, bread and a couple bottles of soft drink.
Among the shop was also pasta, mince, pasta sauce, hot sauce, tooth paste and a few other items.
I split the load, putting half the items into the new $15 paper bag, and the rest into the 25 cent bag.
The $15 bag had longer straps, as well as the standard bag handles, which made it easy to pop it over my shoulder as I was walking around.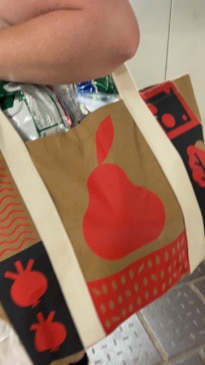 A lot could be loaded up into the bag but if you were doing a big shop – and depending on how strong you were – you'd need more than just one of the heavier duty bags. That means the cost would add up and it could be a while before you break even on that front.
To really test the new bag's capabilities, I decided to pack it full of as much as it could fit, and surprisingly, it didn't show any signs of breaking. I didn't have a set of scales to weigh it but there was at least 8kg in rhwew due to the laundry liquid and soft drink.
It didn't falter. But when I did the same thing with the paper, the handle quickly started to tear.
I put the bag down and gave it a moment to settle before picking it up again and the handle pulled away immediately.
The bag completely fell apart after that point.
The new $15 is also supposed to be washable, so I ran it under water, and was surprising to see it held up well.
Coles speaks
Coles defended its new bag earlier this week after a customer took to social media to slam it.
The spokesperson said: "Our washable paper bag, made from FSC certified paper, has recently launched in-store as another option for customers to use when shopping.
"The $15 price is based on a number of factors, including the materials used and its ability to be machine washable. The leather-like washable paper bag also has a longer life span compared to soft plastic and paper bags and can carry up to 20kg.
"This month we phased out all soft plastic shopping bags in-store and online, which will remove 230 million plastic bags from circulation in one year. This is part of our commitment to reduce unnecessary plastic.
"We also continue to offer our customers 100 per cent recycled paper bags for 25 cents, a range of reusable tote bags that retail from $1.00 and chiller bags which are $2.50 each."
The major supermarket produces 230 million plastic bags every year.
It comes after lightweight plastic bags along with a range of single-use plastic products were banned in multiple states last year.
Coles charges 15c for the bags made out of 80 per cent recycled materials but has committed to phasing them out entirely in-store and online by the end of June.
The decision signifies a major step forward in the supermarket giant's strides towards meeting its sustainability commitments.
Shoppers are urged to bring their own reusable bag to the supermarket but will not be left in the lurch if they forget.
Read related topics:
Coles