Police have revealed how they caught a former childcare worker who has been charged with 1623 child abuse offences against 91 young girls at a dozen early learning centres in Brisbane, Sydney, and overseas.
The charges against the 45-year-old Gold Coast man include 136 counts of rape and 110 counts of sexual intercourse with a child under 10.
The alleged offences relate to 87 children in Australia, and another four overseas between 2007 and 2022.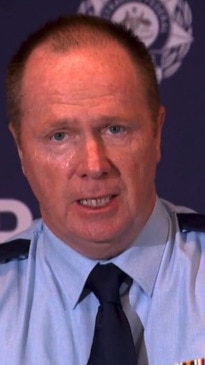 The charges come after years of joint investigations by the Australian Federal Police (AFP), Queensland Police Service (QPS) and New South Wales Police Force (NSWPF), sparked by images shared on the dark web between 2013 and 2014.
The material was reportedly located by QPS in 2014 and was examined by the AFP and other agencies. QPS posted the images on an international victim identification database to seek assistance.
QPS Acting Assistant Commissioner Col Briggs said an "extensive examination was launched to identify the children in the pictures" as soon as police were made aware of them.
"The challenges posed by an investigation of this type were significant and officers never gave up on identifying this alleged offender, reminding themselves that everything you do online leaves a trace," he said.
In August 2022, AFP were able to track trace objects identified in the background of the alleged images and videos to a Brisbane child care centre.
Following inquiries with the centre, the AFP executed a search warrant at the man's home in Brisbane on August 20 and arrested him that same day in the city's southwest.
He was charged with "making and distributing child abuse material that was allegedly posted on the dark web", after police allegedly discovered a hard drive filled with child abuse material of young girls.
Police searched two other properties, including the man's Gold Coast home, where they discovered "electronic devices" allegedly filled with child abuse material that he created.
Evidence collected in the raids also allegedly led police to identify complainants across the border in NSW.
In September 2022 the AFP led a joint task force with the QPS and Australian Centre to Counter Child Exploitation (ACCCE) to review nearly 4000 seized images and videos the man had allegedly created.
Victim identification specialists then helped identify 91 children who had allegedly been offended against by the man.
The AFP alleges the offending took place in 10 childcare centres in Brisbane between 2007-2013 and 2018-2022, one overseas centre between 2013-2014, and one centre in Sydney between 2014-2017.
The man worked at other childcare centres but the AFP have confirmed that there is no allegation the man offended at those centres.
AFP Assistant Commissioner Justine Gough told reporters at a press conference on Tuesday the AFP was confident that all 87 alleged victims in Australia had been identified and their parents informed of the investigation.
She said some of the individuals identified in the alleged child abuse material were now aged over 18-years-old and have also been informed, and officers were still working with international authorities to determine the identities of four more children.
Assistant Commissioner Gough described the alleged offences – which all involved young girls and were allegedly recorded by the man on his phone and on camera – as "chilling news" for families, carers and the community.
"It is with a heavy-heart that the AFP and other law enforcement dedicate so much time and resources to prevent and take action against individuals who commit heinous crimes against children," she said in a statement.
"There is not much solace I can give parents and children who have been identified … but I can tell you that we never gave up, and we never will when it comes to protecting children."
Although Assistant Commissioner Gough said the AFP had not received any reports from parents or child care centres of offending prior to the man's arrest in 2022, QPS Acting Assistant Commissioner Briggs said the state's police department had received reports of offending in 2021 and 2022.
He said both reports were "subject to investigation" but there was "insufficient evidence to take action against any person based on the evidence available to investigators at that time".
QPS reportedly conducted an internal review of the investigations following the man's 2022 arrest, which confirmed there was "insufficient evidence" and that the investigations were conducted "in accordance with QPS policy".
NSW police are seeking to extradite the man from Queensland, obtaining a warrant for "180 child sex abuse charges against 23 victims aged one to five". allegedly committed in the state, Assistant Commissioner Michael Fitzgerald said.
"It's beyond the realms of anyone's imagination what this person did to these children," he said.
"I can only say that you try not to be shocked after a long period of time in the police and crime reporting but this is a horrific, horrific case."
The 45-year-old man has been in custody since August 2022 and will remain so before appearing before Brisbane Magistrates Court on August 21.
The AFP urges anyone who needs support to visit the ACCCE website for a full list of support services and contact details.
Members of the public who have information about people involved in child abuse and exploitation are urged to call Crime Stoppers on 1800 333 000 or report to ACCCE.
If you know abuse is happening right now or a child is at risk, call police immediately on '000'.