Melbourne commuters were forced to do a double-take when an adorable four-legged passenger independently boarded a train en route to Flinders Street Station.
Storm the Labrador effortlessly made his way onto the 8.20am train departing Hoppers Crossing Station last weekend, without any human assistance.
Footage captured by closed-circuit television cameras installed at the station shows the adorable four-legged fare invader standing behind the yellow line before running up to an open carriage door.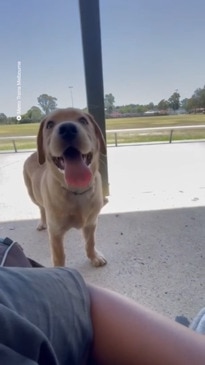 The pooch does a quick check of the train carriage before jumping onto the train, seconds before it takes off.
It's understood Storm travelled on the Werribee Line – which covers parts of the city's southwestern suburbs – and remained on the train for about eight stops, according to Public Transport Victoria's (PTV) Journey Planner map.
Upon arriving at Flinders Street Station in the city, cameras caught a train driver guiding Storm off the train into the safe hands of another PTV employee.
Using a thin string as a leash, the pair walked Storm cautiously behind the platform's yellow line, before phoning the Lost Dog's Home in North Melbourne to help reunite him with his owners.
While waiting for the Lost Dog's Home team to pick Storm up, the four-legged passenger got to enjoy an exclusive behind the scene's tour of Flinders Street Station where he got pats from everyone he met, before going for a walk along Southbank.
Fortunately, Storm's journey to Melbourne's CBD had a happy ending after the rescue centre scanned his microchip which was used to help vets get in touch with his family.
It appears Storm's trip to Melbourne's bustling city has made him more appreciative of green grass and ball games back home in the suburbs, with his owners sharing a brief video of him lapping up the Melbourne sun.
Metro Trains Melbourne has since posted Storm's journey to its Facebook page, sending Melburnians into a spin with more than 2600 people liking the post.
"He just needed an adventure of his own," one person commented.
"That's hilarious, but at least he is home with his master. Very lucky dog," another said.
A third joked: "Didn't see him tap on – a fine coming his way".
While Storm's situation was a little unusual given his owner wasn't accompanying him, pets are allowed on Melbourne's train, tram and bus network provided their owners follow the rules.
Small animals are permitted so long as they're in a suitable animal container, whereas dog's can board a train so long as they're on a leash.
"If you bring your dog on a train you must: clean up any mess your dog makes, make sure your dog doesn't sit on seats, or block aisles and doors, keep your dog under your control at all time (and) avoid travelling on weekdays between 7am and 9am or 4pm and 6pm," the PTV website said.
Storm's journey comes almost a month after Heidi the "fast little" Spoodle made headlines in Sydney for causing commuter chaos by running laps around the city's train tracks.
Footage showed the 10-year-old pooch run for more than an hour as she completed two laps between Milsons Point and North Sydney Stations on the T1 North Shore line – even managing to cross over the Sydney Harbour Bridge.
The incident occurred during morning peak hour, with services delayed by up to 30 minutes due to the cute but troublesome ordeal.
She was later captured by staff and emergency services at Waverton Station, before being reunited with her owner.