Director: Celine Song (feature debut)
Starring: Greta Lee, Teo Yoo, John Magaro
Rating: *****
A perfect love with imperfect timing
If Oppenheimer is indeed the best movie of 2023 so far, then the utterly exquisite romantic drama Past Lives is the only movie that deserves to be mentioned in the same breath.
The two motion pictures could not be any more different.
Oppenheimer was produced for a nine-figure sum, showcased a huge ensemble of actors, and was written and directed by one of the most acclaimed filmmakers working today.
Past Lives was completed for about the same cost as Oppenheimer's catering budget, features only three actors with substantial speaking parts, and was written and directed by someone who had never even been on a movie set before.
Oppenheimer ambitiously captures the most telling flashpoint in the last century of world history. Past Lives modestly reunites two childhood sweethearts for the first time in 24 years.
And yet, for many people and for many reasons, the time spent with Past Lives will prove just as impactful and memorable as anything they have encountered in a cinema in recent times.
If you wish to experience this rare gem at its full magnitude of emotional force, then stop reading right now. Just be assured you are in for something truly and uniquely refined: a love story that will linger on your mind for a long, long to come.
If you need to know a little more about Past Lives, I'll keep the necessary descriptors as basic as I can.
Once upon a time, when they were 12 years of age and living in the Korean city of Seoul, Nora and Hae Sung were sweet on each other. Then Nora's family moved away to live in North America, and that was that.
After a beautiful prologue encompassing the first and only date shared by Nora and Hae Sung, Past Lives gracefully glides some 12 years onwards.
Hae Sung (played by Teo Yoo) goes looking for Nora (Greta Lee) online, and eventually finds her. He is still in Seoul. She is now in New York. They begin talking on Skype every chance they can. Their old connection is still there, while a new connection is beginning to take hold. Until the calls stop. Suddenly and decisively.
The literally perfect final act of Past Lives is ushered in by another 12-year cross-fade to the present day. Nora is now happily married to a writer, Arthur (John Magaro). Out of the blue, Hae Sung arrives in New York to pay her a visit.
What will or will not happen in the scenes that follow is not so important. All that matters is the delicate intensity of feeling this movie very skilfully draws from the viewer as a truly unforgettable (and unforgettably true-to-life) conclusion gradually unfolds.
For anyone who has loved and lost in any shape or form, Past Lives finds a meaning to the experience that will speak very personally to each and every viewer.
Past Lives is screening in advance previews from Friday through Sunday, then opens in general release on August 31.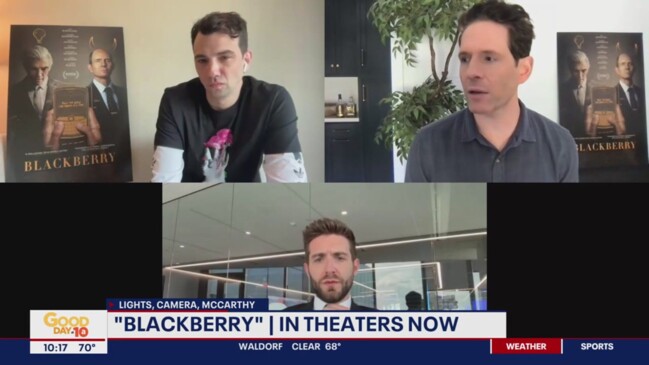 BLACKBERRY (M)
***1/2
General release
The BlackBerry was considered revolutionary in its high-flying heyday two decades ago. This chunky, clunky digital doo-dad was the first mobile unit to handle phone calls, text messages, emails and the web on the go. Of course, it was doomed to be steamrolled flat as a pancake by the arrival of the iPhone in 2007, but its creators were not to know that. The three Canadians running BlackBerry Inc. were too busy rewriting the rule book on how not to do business in Silicon Valley. Instead of strategically scaling up, CEO Jim Ballsillie (Glenn Howerton), coding genius Mike Lazaridis (Jay Baruchel) and his loyal offsider Doug Fregin (Matt Johnson) skated sideways in a deluded and distracted fashion. These guys held the golden ticket to be the next Google, Apple or Facebook, and they burnt it to a crisp. If you are fascinated by fiscal tales of woe such as those spun by The Big Short (or hi-tech sliding-doors moments as chronicled by The Social Network) then this is the movie for you.
SOUND OF FREEDOM (M)
**
General release
The message conveyed here is undeniably important: not only is there is too much child trafficking in this world, there is also too little being done about it. While Sound of Freedom definitely has its heart in the right place when it comes to this saddening, maddening issue, it can't quite explain it without exploiting it. The saving grace throughout is that this is a true story. There was indeed an honourable fellow named Tim Ballard (played by Passion of the Christ's Jim Caviezel) who ditched a well-paid job with US Homeland Security to mount a crusade to rescue kidnapped children in Columbia. While the movie ticks the right boxes in charting the course taken by Ballard's noble and dangerous journey, there is too much going wrong on the creative front (the scripting, editing and supporting actors are all decidedly wonky) to hold your attention for two long hours.
Originally published as Why low budget Korean love story Past Lives rivals Oppenheimer as the best movie of the year