An Aussie renter has opened up about the horrifying experience she had when she first moved to Sydney from Brisbane.
In what can only be described as the stuff of nightmares, Tahlia Smith has spoken out about how she discovered her landlord had been sneaking into her apartment while she was out of the house.
In a TikTok video she revealed the woman would enter the property, use her bathroom, kitchen, laundry and "I don't know what else" without her knowledge.
"The real estate was somehow allowing this to happen," she said.
Ms Smith and her husband moved from Brisbane to Sydney, a place they had never been, and chose the rental because it was fully furnished, cheap and close to the city.
The couple found the property through a legitimate and well-known real estate – who Ms Smith declined to name – so they thought they were "doing everything right" in finding an appropriate place to live.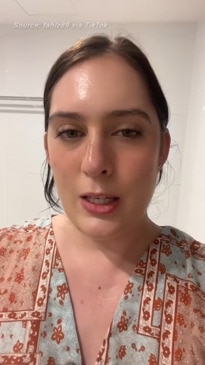 But it wasn't long before Ms Smith started to notice some unusual occurrences, with the first alarm bells starting to ring the very first day they moved in.
"It was very strange because when we got there the screen door was locked but the main door was open," she explained.
"The place smelt like it had just been cleaned 10 minutes before and the fan was on, the lights were on, the back door was unlocked.
"I knew they weren't like that earlier in the day because the real estate (agent) had just done the entry report in the morning."
There was also food that had been left in the kitchen, including bananas and some canned goods.
On top of this, there was a cat that kept trying to enter the unit.
Ms Smith said the whole situation was "very strange" and made her think that someone may have been living in the property up until a few hours before they arrived.
Needing a property to live in, the tenants decided to ignore this strangeness for a long time, until they started seeing a woman coming into their front yard with her dog and going through the bins and mail.
They knew she wasn't one of the tenants because they knew all their neighbours.
Things came to a head one day when Ms Smith was working from home and she heard someone talking right outside the window.
"I open the window and she is sitting on the table and chairs right outside our unit with a mate having a cup of tea in our front yard," the renter said.
"I was like who is this lady? I sent it to the real estate and they were like 'Oh yes that is the owner don't worry she is going back to Queensland soon. It is all going to be fine'."
It wasn't long before Ms Smith and her husband discovered that the landlord had been living in a van outside their unit and was letting herself into their home to use their facilities when they weren't there.
After making this discovery, the renters were able to break their lease without a penalty, believing it wasn't worth the legal battle to file an official complaint against the real estate and landlord.
But Ms Smith vowed to never rent through that real estate agency again.
This is just one of the many horror stories that have been emerging from Aussie tenants as the rental crisis continues to worsen.
The brutal reality of the crisis was laid bare in a recent report that revealed the majority of Aussies are now experiencing housing stress.
A survey of hundreds of people by national housing campaign Everybody's Home shows one in three Australians are spending more than 30 per cent of their income on housing.
Renters are the hardest hit. The report found four in five residents (82 per cent) were struggling to keep up with rental hikes and were now experiencing rental stress.
Campaign spokeswoman Maiy Azize said Australians were being pushed to the brink and forced to do "desperate things" just to keep a roof over their head.
"These figures and the stories behind them are harrowing. We've heard from people worried they will become homeless with their children, renters in extreme hardship, and older women who are considering sleeping in their cars or on the streets because they can't find an affordable home," she said.
"It's no wonder that three-quarters of the people who we survey told us that they were really scared about their financial security for the future."