It is one thing to be caught for a crime by documenting it on your phone, or posting about it on social media; but it's another thing for police to then turn those boastful posts into a meme mocking your downfall.
This is the harsh comedown for one English man when, after being jailed for a strong of offences, Lancashire Police shared his mugshot next to a selfie he had taken spruiking stolen banknotes.
Samuel Walmsley was one of more than 14 men jailed for nearly 50 years for a "burglary and vehicle theft conspiracy" – including charges relating to drug importation, and burglary and vehicle theft rings – in the country's northwest.
And as if being jailed was not enough to teach the 20-year-old a lesson, police made the offender into a "how it started vs. how its going" meme to announce his sentencing.
The meme showed a screenshot of Walmsley fanning a wad of banknotes, compared to his markedly different mugshot.
The meme kicks off a thread detailing how the Great Harwood man and three others – Kevin Docherty, Noah Mulligan, and Jordan Whittam – were caught after police recovered photos and videos from Walmsley's phone, which included them showing off their crimes.
In follow-up tweets, police wrote "it wasn't too difficult" to catch the offenders, who filmed a number of their crimes, including a video sitting in a vehicle shuffling through cash and bank cards stolen during a burglary, even posting some to social media.
"As well as showing off a stolen van on Snapchat, capturing items taken during burglaries and describing it as "a good night's work"," police wrote on Twitter.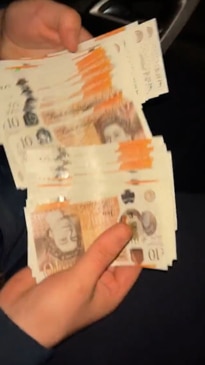 Police said the group also "trolled" a post on a community Facebook page featuring the defendants breaking into a car. Walmsley filmed the community member's post, and could be heard laughing and saying "that's me in the boot".
"But something tells us they aren't laughing now," police posted.
"These defendants thought it appropriate to capture their criminal activities on film and brazenly mock hardworking members of society.
"We're here to send a message to anyone intent on this type of criminality – this will not be tolerated in Lancashire."
The thread drew millions of views and thousands of responses, many hailing the "savage" post as the "tweet of the year".
"All I see is good police work. Good job," one wrote.
"DAMN … police clowning people now," another wrote, with a crying emoji.
Some even requested more meme content like
Someone else wrote in all-caps "this is what we like to see Lancashire Police", while the Kingston Police account said the post was "perfection".
Some even posted their own versions of the meme, praising the police's social media savvy.
But some were less than impressed with the thread, calling it "unprofessional" and "disgraceful"
Legal Style Blog replied: "This sort of mocking, joking tweets is disgraceful. It condescends to and insults the victims of crime, is unseemly, celebratory, and acts like policing is all one big jolly jape."
One user wrote: "Sassy posts like this are unprofessional, crass, and pretty childish … Not what you'd expect from a 184 year old police force."
Walmsley was part of a group who went on a spree of burglaries and car thefts. They would then record their joy rides in the stolen vehicles and post them onto Snapchat.
Walmsley was jailed following an investigation started in October last year when police officers attempted to stop an Audi heading into Great Harwood, a town about 10km out of Blackburn in northwest England.
The car crashed and four people got out; though two escaped, police arrested Walmsley and co-defendant Noah Mulligan, 22, after seizing a number of tools associated with burglary.
Officers then searched 20-year-old Jordan Whittam's house, seizing £1,200 ($A2334) of cannabis.
Police also seized his phone which contained "messages related to drug-dealing" and videos of Whittam or that he recorded "either implicating himself or his co-defendants in burglaries", police said in a statement.
Photos and videos recovered from Walmsley's phone "implicated him in being involved in the supply of cocaine and cannabis", and police say he "regularly" photographed himself with "large amounts of money".
The group were jailed for a total of nearly 10 years, Walmsley handed a sentence of two years and four months.
Data from the four men's phones also led to police charging 12 other men with a string of drug, burglary, and theft offences.
Fourteen, including the initial four men, were sentenced to
"These defendants caused a great deal of misery in Great Harwood and surrounding areas, exploiting some of the most vulnerable members of society for pure greed," Detective Sergeant Stu Peall said in the police statement.
"Some even thought it appropriate to capture their criminal activities on film and brazenly mock hardworking members of society."
"I hope the outcome of this case sends a strong message that Lancashire Police will not tolerate criminal activity of any kind and put those who wish to engage in it before the courts."