New video has emerged of what led up to a massive, viral WWE-style brawl on an Alabama dock.
Footage from Montgomery Riverfront about 7pm on Saturday shows riverboat passengers cheering a worker as he pushes away a pontoon boat that is preventing them from docking.
"That guy in the white shirt … he got off our ship to go over there to move that black pontoon boat on his own," says a woman filming the clip from the Harriott II Riverboat.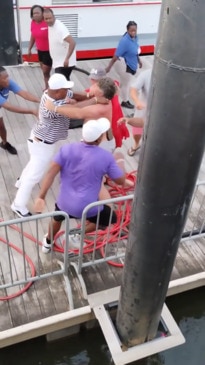 "Because those guys who parked there were told not to leave it there — and they left it there. So he's just pushing it off," she says.
"Took matters into his own hands. I love it."
The worker is soon accosted by several men and at least one woman as he points toward their boat.
After about three minutes, a shirtless man in grey shorts is seen lunging at the worker as he interacts with another man.
The assailant takes a swing at the worker, who flings his cap into the air as the crowd of onlookers continues shouting.
The two men then hurl punches at each other as others join in – including a woman in a green dress, though it was unclear if she was trying to stop the brawl.
Within seconds, several men are seen running to the scene and attacking the fallen worker.
One shirtless man also is seen punching another man in a blue shirt in the gut – apparently for intervening.
At one point, a bystander joined the melee and a teen jumped off the riverboat and swam toward the combatants before a group of police officers or security guards brought things under control, AL.com reported.
Four warrants have been issued so far with the possibility that more will follow after police review the multiple videos of the fight, WSFA reported.
None of the suspects have been identified and the exact charges have not been announced.
The teen seen in the videos was a 16-year-old boat worker named Aaren, according to AL.com, which cited a publicist, Makina Lashea.
"In the face of adversity, Aaren selflessly came to the rescue of a fellow colleague, showcasing courage beyond his years," Lashea wrote.
"Aaren's unwavering commitment brings immense pride to his parents, leaving him feeling grateful and touched by the strong support of the community."
Chase Shipman, the owner of Vasser's Mini-Mart in Selma, said he was at the scene and "tried to stop it and realised that I could not, so I tried to get away," The Selma Times-Journal reported.
"I have a business to run and represent and no charges were filed against me because I was not involved," he wrote in social media, according to the outlet.
However, several people disputed his account, including former Selma City Councilwoman Angela Benjamin, who accused him of being involved in the free-for-all.
"Last night, the Montgomery Police Department acted swiftly to detain several reckless individuals for attacking a man who was doing his job," Montgomery Mayor Steven Reed said in a statement.
"Warrants are being signed and justice will be served," he added. "As our police department investigates these intolerable actions, we should not become desensitised to violence of any kind in our community.
He added: "Those who choose violence will be held accountable by our criminal justice system."
This article originally appeared in the NY Post and was reproduced with permission